Bachelor of Science in Secondary Education (BSSE) Degree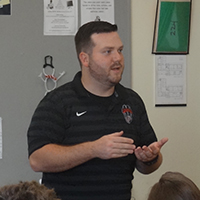 Ryan Alice - Class of 2011, 2015
BS, MED
"I believe in sharing a message of hope and positivity with my students. Math can be hard for a lot of students, but I aim at teaching my students to see how math fits into their lives. I believe in my students and I teach them to believe in themselves. Every student deserves to be educated fully beyond just the classroom. Because of this, I push my students to think about the impact they have within their community and how they can apply their knowledge to the world around them. "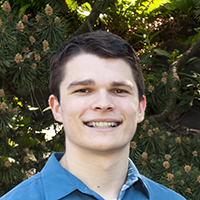 Nick Krautscheid - Class of 2018
Secondary focus with a Social Studies endorsement
"I teach in order to empower the world's youth as they contribute to society while pursuing their passions."
Raegan Leong - Class of 2017
BS
"I believe that all students need to discover and find their love of mathematics through exploration in and outside the classroom. UP has helped me learn how to teach my students in such a way that this love for mathematics is discovered. On top of that, UP has helped me gain a deeper understanding on how to differentiate my teaching so that all of my students have a chance to succeed and grow in my classroom, no matter where they are in their education. I became a teacher because I love seeing the look on students faces when their ideas are validated and when they finally form a connection in their mind about the content."
BSSE Learning Outcomes
The BSSE degree leads to recommendation for an Oregon P-12 "single-subject" (secondary) preliminary license. Subject area endorsements are available in advanced mathematics, biology, chemistry, drama, foundational mathematics, French, German, language arts, middle school language arts, middle school social studies, music, physics, social studies, and Spanish. 
General degree outcomes are listed below. Candidates for the degree will be able to meet Oregon Teacher Standards and Practices Commission  standards:
Plan instruction that supports student progress in learning in content areas and is appropriate for the middle school and high school developmental levels.
Establish a classroom climate conducive to learning.
Engage students in planned learning activities.
Evaluate, act upon, and report student progress in learning.
Exhibit professional behaviors, ethics, and values.
BSSE Degree Requirements
Passage of all TSPC approved tests required for licensure by December 31 of the junior year. Exceptions are subject to approval by the associate dean;
Completion of a minimum of 120 semester hours of study;
Successful completion of all coursework with a minimum cumulative GPA of 2.50;
A minimum cumulative GPA of 2.70 in all education classes;
A grade of C or better in all education courses; candidates who receive a grade of C or lower in any education course must repeat the course;
Passage of ENG 107 or equivalent course with a grade of B- or better. (Note: ENG 107 is waived if SAT Verbal Score is 630 or above);
Completion of a teaching endorsement (major) in at least one of the secondary endorsement areas with a cumulative GPA of at least 2.70 in that area. To maintain the GPA of 2.70, candidates cannot have more than two grades of C in all endorsement area classes. Ordinarily, a minimum of 75 percent of the credits in an endorsement area of the secondary specialty area must be taken at the University of Portland for a secondary undergraduate major to student teach in that area. The permission of the associate dean must be obtained for an exception;
Successful completion of student teaching to include an edTPA portfolio;
Recommendation for licensure from the associate dean;
Subject to approval by the dean, candidates who are not able to complete student teaching and student teaching seminar and/or other licensure requirements may be recommended for graduation without licensure by substituting upper division educational coursework which meets University requirements for a degree;
During the professional year, candidates may not enroll in more than 15 semester hours each semester. Exceptions are subject to approval by the associate dean.
Course Requirements
University Core Requirements -- 40 hrs.
All University of Portland students progress through a set of shared course options as part of the University's liberal arts Core Curriculum. This curriculum offers a foundation of multiple lenses to address enduring questions of human concern, integrating the liberal arts, the University mission, and the knowledge, skills, and values needed in a diverse society and in the workplace. See Core Curriculum Requirements.
BSSE Major Requirements - 81 hrs.
ED 150     Introduction to Education (3 cr.)
ED 251    Theories of Adolescent Development and Learning in Educational Contexts (3 cr.)
ED 320     Sociocultural Foundations of Education (3 cr.)
ED 330     Inclusive Policies and Practices for Diverse Learners (3 cr.)
ED 411     Assessment Practices for Teaching and Learning (3 cr.)
ED 424     Technology in Education (3 cr.)
ED 427     Adolescent Classroom Relationships and Management (3 cr.)
ED 450     Models of Teaching and Literacy Development (3 cr.)
ED 452     Content Methods: Language Arts (3 cr.)
    or
ED 453     Content Methods: Math (3 cr.)
    or
ED 454     Content Methods: World Language (3 cr.)
    or
ED 456     Content Methods: Social Studies (3 cr.)
    or
ED 457     Content Methods: Science (3 cr.)
ED 471     Single-Subject (Secondary) Student Teaching (3 cr.)
ED 473     Single-Subject (Secondary) Student Teaching (3 cr.)
ED 475     Single-Subject (Secondary) Student Teaching: Advanced (3 cr.)
ED 481     Language, Literacy and Culture (3 cr.)
ED 486     Single-Subject (Secondary) Seminar for Student Teachers (3 cr.)
ENG 107  College Writing (3 cr.)
Electives (6 cr.)
Endorsement courses (30 cr.)
Total Credit Hours: 120
Course descriptions are available in the University of Portland Bulletin.