Bachelor of Arts (BA) in Elementary Education Degree
Maggie Hamilton - Class of 2015
BA
"All learning begins and ends with emotion. I know that a student's attitude about material will affect how successful they are. I am passionate about teaching students to love and to develop a lifelong excitement about learning. From my experience at UP, I have gained invaluable friendships, amazing professional colleagues and an education that fully prepared me to be an educator. The University of Portland taught me to be a role model for my students and to prioritize meaningful relationships and mutual respect in the classroom. "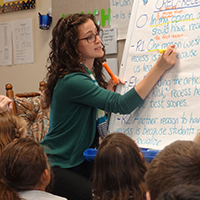 Sara Jacobs - Class of 2015
BA
"I want my students to know that I believe in them and if they believe in themselves, they can achieve anything they dream. I believe in a student-centered learning environment. That's why I'm working hard, just like my professors did for me, to get to know every one of my students as individuals; to know where they've come from so that I can show them where they can go. "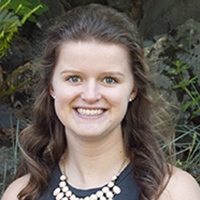 Emily Collins - Class of 2018
Elementary focus with an ESOL endorsement
"I love puzzles, and I feel that the students in your classroom are somewhat like a puzzle. Each one plays a pivotal role in how the class works and it is your job to find out how they all fit together. Every day you will experience great joys, and every day you will most definitely face challenges. There is never a dull moment in learning and this is why I wanted to become a teacher."
Krystal Nguyen - Class of 2013, 2015
BA, MED
"I am an educator who is passionate about creating relationships. In school I learned that teaching without considering the whole person is like trying to bake cake with only flour. In order for my students to grow and learn I must consider not just their names, but who they are, where they come from, and where they want to go in life. This is why I attended the University of Portland. "
Michael Solitaria - Class of 2017
BA
"My goal as an educator is to educate the whole student. This begins by building safe and trusting relationships, where all that each student brings into our classroom is acknowledged and celebrated. I learned that some students are just not set up for learning every day. Some students may have not eaten all weekend, their family is homeless or transient, or they have non-traditional or even irregular family structures. It is my responsibility to create a space where students feel autonomous, a sense of belonging, and successful."
BA Learning Outcomes
The BA in education degree leads to recommendation for an Oregon P-12 "multiple subjects" (elementary) preliminary license. Additional endorsements may also be completed with additional hours of study. General degree outcomes are listed below. Candidates for the degree will be able to meet Oregon Teacher Standards and Practices Commission standards:
Plan instruction that supports student progress in learning in multiple subject areas and is appropriate for the early childhood,elementary, or middle developmental levels.
Establish a classroom climate conducive to learning.
Engage students in planned learning activities.
Evaluate, act upon, and report student progress in learning.
Exhibit professional behaviors, ethics, and values.
BA Degree Requirements
To qualify for the degree and recommendation for Oregon licensure, the following requirements must be met:
Passage of all TSPC approved tests required for licensure by March 1 of the sophomore year. Exceptions are subject to approval by the associate dean;
Completion of a minimum of 120 semester hours of study;
Successful completion of all coursework with a minimum cumulative GPA of 2.50;
A minimum cumulative GPA of 2.70 in all education classes;
A grade of C or better in all education courses; candidates who receive a grade of C or lower in any education course must repeat the course;
Passage of ENG 107 or equivalent course with a grade of B- or better (Note: ENG 107 is waived is SAT Verbal Score is 630 or above);
Successful completion of student teaching to include an edTPA portfolio;
Recommendation for licensure from the associate dean;
Subject to approval by the dean, candidates who are not able to complete student teaching and student teaching seminar and/or other licensure requirements may be recommended for graduation without licensure by substituting upper division educational coursework which meets University requirements for a degree;
During the professional year, candidates may not enroll in more than 15 semester hours each semester. Exceptions are subject to approval by the associate dean.
Course Requirements
University Core Requirements -- 39 hrs.
FA 207 Introduction to Fine Arts (3 cr.)

HST 210 United States: Early America (3 cr.)

or

HST 211 United States: Modern America (3 cr.)

ENG 112 Introduction to Literature (3 cr.)

MTH 160 Quantitative Reasoning (3 cr.)

or

MTH 161 Elementary Statistics (3 cr.)

PHL 150 Introductory Philosophy (3 cr.)

PHL 220 Ethics (3 cr.)

PHY 109 Powerful Ideas in Physical Science (3 cr.)

ENV 110 Earth Systems Science (3 cr.)

Two Social Science Electives (6 cr.)

THE 105 Introduction to Theology (3 cr.)

THE 205 The Bible, Past and Present (3 cr.)

THE XXX Upper-division Theology Elective (3 cr.)
BA Major Requirements -- 81 hrs.
ED 150     Introduction to Education (3 cr.)
ED 250     Pre-Adolescent Theories of Development and Learning (3 cr.)
ED 320     Foundations of Education (3 cr.)
ED 330     Policies and Practices for Diverse Learners (3 cr.)
ED 340     Pre-Adolescent Health and Wellness for Educators (3 cr.)
ED 400     Pre-Adolescent Curriculum and Instruction (3 cr.)
ED 411     Assessment (3 cr.)
ED 414     Children's and Adolescent Literature and Library (3 cr.)
ED 424     Technology in Education (3 cr.)
ED 426     Pre-Adolescent Classroom Relationships and Management (3 cr.)
ED 442     Reading and Language Arts Methods (3 cr.)
ED 445     Mathematics and Science Methods (3 cr.)
ED 447     Fostering Creativity in the Classroom (3 cr.)
ED 470     Multi-Subject (Elementary) Student Teaching (3 cr.)
ED 472     Multi-Subject (Elementary) Student Teaching (3 cr.)
ED 476     Multi-Subject (Elementary) Student Teaching: Advanced (3 cr.)
ED 481     Language, Literacy and Culture (3 cr.)
ED 487     Multi-Subject (Elementary) Seminar for Student Teachers (3 cr.)
BIO 203   Human Form and Function (3 cr.)
ENG 107  College Writing (3 cr.)
MTH 105  Mathematics for Elementary Teachers I (3 cr.)
MTH 106 Mathematics for Elementary Teachers II (3 cr.)
Electives (15 cr.)
Total Credit Hours: 120
Course descriptions are available in the University of Portland Bulletin.