Master of Arts in Higher Education and Student Affairs (MA HESA)
Meet Carly Halverson, UP School of Education's MA HESA alumnus. Carly has been working in the higher education and student affairs field for over 4+ years. She is currently working for a University in the state of Washington.
 The master of arts in higher education and student affairs (MA HESA) program offers a professional pathway to advance your career goals as an effective administrator, educator, and leader in higher education. Whether currently employed in higher education or seeking a new career, the MA HESA provides professional faculty experts, real-world experiences, and opportunities to explore career options. Designed for working students and professionals, evening programming options include full-time (two-year completion) or part-time study options, rolling admissions to meet your start date needs, and courses in three semester terms: fall, spring, and the July summer session. Meeting face-to-face with faculty, you will be mentored and advised according to your individualized study plan. The MA HESA program is aligned with the American College Personnel Association (ACPA) and National Association of Student Personnel Administrators (NASPA) professional competencies.
Receive Information Book an Informational Appointment
MA HESA Program Overview and Strengths
Credits and Length: The 30-semester-hour program is designed to be completed in 2 years. Students enroll in 6 semester hours of credit in three contiguous semesters (fall, spring, and summer) during consecutive years of study. Part-time options may be planned individually based on consultation.
State-of-the-Art MA HESA Curriculum: All students in our program experience a learning model that bridges theory, best practices, and applied research for immediate impact on the profession.
Accessible and Affordable: Courses are delivered on the UP campus one evening a week. The School of Education offers programs at some of the lowest tuition rates in the metropolitan area; all programs are eligible for federal financial aid, and no application fee is required. Current graduate program tuition rates may be found here.
Doctor of Education (EdD) Option: If you have already earned a master's degree and your goal is to become a HESA professional, you may apply to the EdD program and, if accepted, select HESA as your area of concentration. The EdD program offers an innovative program for advanced leadership with areas of concentration options based on career goals of applicants. For more information about doctoral studies with a HESA concentration, consult the EdD program page.
Post Master's Certificate Option: If you have already earned a master's degree and your goal is to become a HESA professional but you do not wish to pursue an EdD degree, you may apply to the post master's HESA certificate program.
Dedicated Faculty and Professional Network: Program faculty hold advanced degrees and have executive work experience in higher education.
Eduardo Contreras, Jr., Ed.D.
"Eduardo Contreras, Jr., Ed.D., serves as the Director of Studies Abroad program and an affiliate faculty member for the MA HESA program. He holds an Ed.D. from Graduate School of Education at Harvard. Dr. Contreras' expertise in international education and his experience in studies abroad will contribute to the advancement of UP's School of Education MA HESA program. "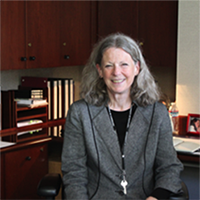 Roberta "Bobbi" Lindahl, MBA
"Roberta "Bobbi" Lindahl, M.B.A., serves as the Registrar and an affiliate faculty member for the MA HESA program. As the Registrar, she is responsible for comprehensive data systems and policies regarding course registration, transcripts, class rosters, classroom requests, and graduation requirements. "
Click here for our full faculty page.
MA HESA Program of Study & Curriculum
The MA HESA program includes coursework in each of the following four strands:
1. Administration-Leadership: Develop leadership and team skills
Leadership development and philosophy | Legal issues | Higher education history | Organizational practice | Personnel

2. Student Affairs: Learn to support and counsel students
Student development and diversity | Career planning | Counseling | Spirituality | Student identity

3. Program Evaluation: Improve programming effectiveness
Program management | Social support and entrepreneurism | Goal setting | Program measurement and evaluation

4. Integration: Gain experience through a practicum or project
Career interest exploration | Applied projects | Practicum opportunities | Starting the job search
The MA HESA program is designed to prepare students to be impactful higher education practitioners through: professional skill development, practical experiences, practica, program development, evaluation, and assessment based on best practices. Forming the next generation of visionary leaders for postsecondary education, the program educates the mind and heart in service to the world in the Catholic and Holy Cross tradition.
MA HESA Degree Requirements
The courses listed below are required to complete the MA HESA degree requirements.
Administration-Leadership Strand (12 semester hours)
Required:
BUS 512 Leadership and Higher Level Management (3 sem hrs)
ED 520 History, Organization, and Student Personnel in Higher Education (3 sem hrs)
ED 522 Legal Issues in Higher Education (3 sem hrs)

Choose One:
BUS 515 Social Venture Management (3 sem hrs)
BUS 541 Human Resources Management (3 sem hrs)
BUS 571 New Venture Management (3 sem hrs)
Student Affairs Strand (9 semester hours)
ED 521 Student Career Development and Planning (3 sem hrs)
ED 523 Developmental Theory, Identity, and College Populations (3 sem hrs)
ED 528 Foundations of Counseling and Student Affairs (3 sem hrs)
Program Evaluation Strand (3 semester hours)
ED 539 Institutional Research
Integration Strand (6 semester hours)
ED 527 Applied Studies in Higher Education and Student Affairs (6 sem hrs)
Course descriptions are available in the University of Portland Bulletin.
Potential Careers in Higher Education
College unions | Student senate | Orientation | Student activities | Service learning/civic engagement | Multicultural programs | Identity diversity programs | Financial aid | Program counseling | Leisure and recreational sports programs | Women's programs | Veterans programs | Support centers for students with disabilities | Art galleries | Career placement | Study abroad programs | Residence life and housing | Recreation/fitness centers | Student conduct | Campus Ministry | Commuter student offices | Student government advising | Graduate student association | Student employment office | First-year student programs | Leadership programs | International student centers | Academic event management
Program Admission and Application
 Applications are reviewed throughout the year, as this program has a rolling admissions process. Applications deadlines by term are August 1 (fall entry), December 1 (spring entry), and June 1 (summer entry).